Cantor Robbie Solomon Live @ BHC
Over the last few years, I have been not only composing new pieces for the synagogue and beyond, but also honing my skills as an arranger and an orchestrator. I hope to use these new abilities further into my retirement, which began this summer (2017).
I am proud to offer here a new live recording, "Cantor Robbie Solomon Live at BHC" in which many of these skills are displayed. It was scored for cantor, choir, string quartet, woodwind trio and a rhythm section of guitar, piano, bass and drums. The CD includes eight original pieces most of which have not been recorded before.
You can purchase the CD here for $15, including shipping and handling, or download it for $10 from OySongs.com.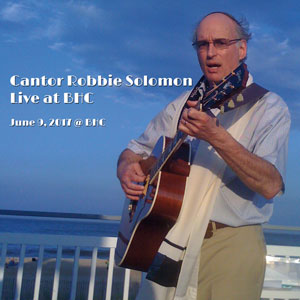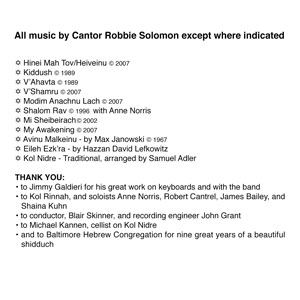 For the 30th Anniversary of the founding of Temple Emanu-El of Atlanta, GA, Robbie Solomon was commissioned to write a new setting for the Friday night service. The service debuted on Friday night March 14, 2008 at Temple Emanu-El with Cantor Ben Adler and his choirs....
read more