Cantor Robbie Solomon Live @ BHC
Over the last few years, I have been not only composing new pieces for the synagogue and beyond, but also honing my skills as an arranger and an orchestrator. I hope to use these new abilities further into my retirement, which began this summer (2017).
I am proud to offer here a new live recording, "Cantor Robbie Solomon Live at BHC" in which many of these skills are displayed. It was scored for cantor, choir, string quartet, woodwind trio and a rhythm section of guitar, piano, bass and drums. The CD includes eight original pieces most of which have not been recorded before.
You can purchase the CD here for $15, including shipping and handling, or download it for $10 from OySongs.com.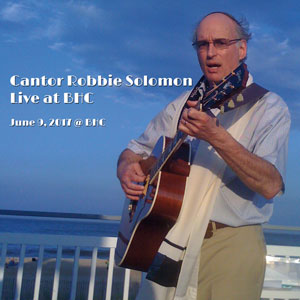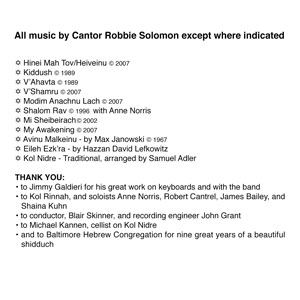 TORAH SERVICE © 1989 1. Ein Kamocha/Av Harachamim 2. Ki Mitzion, Baruch Shenatan, Shema, Echad, Gad'lu 3. L'cha Adonai/Rom'mu 4. V'zot Hatorah 5. Yehalelu 6. Hodo al Eretz 7. Ki Lekach Tov 8. Eitz Chayim Hee The Torah Service (©1989), for the new sanctuary at Temple...
read more
Zimrat Shalom (©1989), a Friday night service for the 130th anniversary of Cong. Neveh Shalom of Portland, OR. ZIMRAT SHALOM (© 1989) song list: Mah Tovu L'cha Dodi Barechu El Chai Ahavat Olam Shema V'Ahavta Mi Chamocha Chatzi Kaddish Meditation/May The Words Kiddush...
read more