As well as being a composer of Jewish music, Robbie Solomon is renowned for his artistry as a cantor and performer of a wide variety of Jewish repertoire. Whether in a single performance, or at a scholar's weekend working with the choirs and speaking about his own music or the history of Jewish music, Robbie is a delight.
Cantor Solomon's liturgical works are unique because they combine a contemporary beat, which allows the congregation to join in singing with an authentic depth of Jewish tradition and feeling. They sound modern and Jewish at the same time. The music reflects influences that range from traditional hazzanut to Sephardic and Israeli folk melodies to American jazz. In addition to the dozens of songs Robbie composed for Safam, he has written a couple of complete Friday night services, a Torah service, a Havdalah service, and many individual pieces written for various combinations of singers and instrumentalists.
As a scholar-in-residence, Cantor Solomon will help present a Friday night service featuring his music. He will work with your cantor (or music director) to choose a program most suited to the synagogue, and will assist in the training of choirs, and any other musicians available to your congregation. When possible, he will arrive on earlier in the week to work with the participants.
At the service, Robbie will also give a sermon-in-song involving the congregation in studying the creative process from a composer's viewpoint. Congregants will hear the melodies with very different "ears" and gain a better understanding for the role of music in the worship experience.
Cantor Solomon is prepared to conduct, to sing or to play a number of instruments, if needed in the program. He can work with children's choirs and adult choirs, volunteer or professional.
An evening or weekend spent with Cantor Robbie Solomon will leave the congregation with tunes that will become some of their favorite settings for future services. They will come away with a new appreciation for Jewish music and the wealth of beautiful melodies found in our heritage.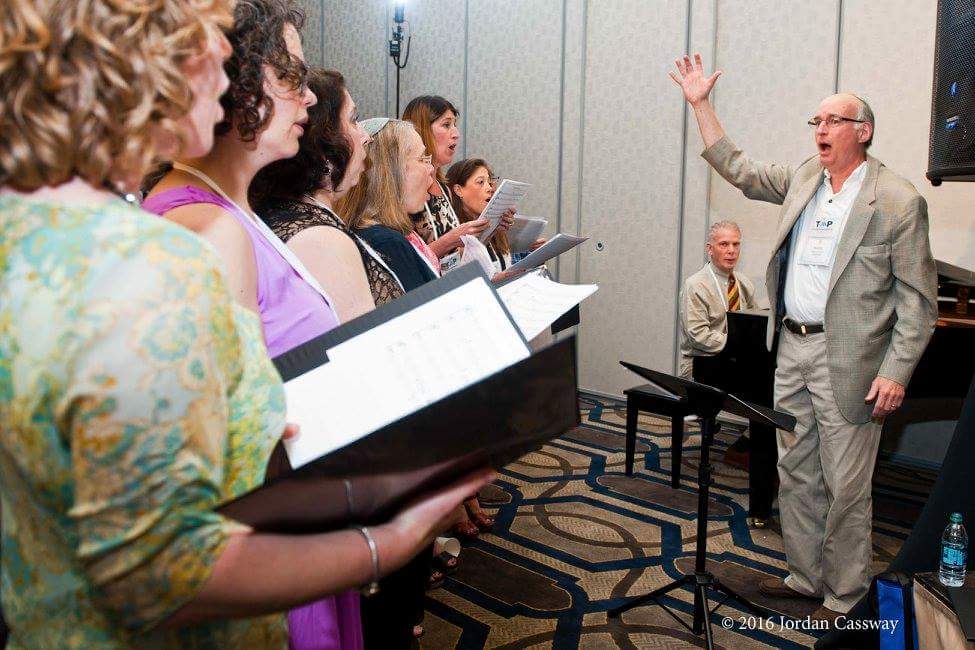 Here is a sample of Cantor Robbie Solomon's engagements:
January 26, 2008 BriarCliff Manor, N.Y. A Cantor's Cabaret
June 11, 2006 Albany, NY, Composer in Residence for the Ne'imah Choir Spring Choral Festival
May, 2005 Atlanta, GA, Scholar-in-Residence at Temple Emanu-El
May, 2004 Baltimore, MD, Temple Emanuel, Scholar-in-Residence
May, 2003 Atlanta, GA, Composer-in-Residence at the Atlanta Jewish Choral Festival

A partial list of other synagogues and cantors who have hosted Cantor Solomon as scholar-in-residence follows:
Cantor Linda Shivers, Congregation Neveh Shalom, Portland, OR
Cantor Jodi Sufrin, Temple Beth Elohim, Wellesley, MA
Cantor Steven Sher, Temple Israel of Westchester, Croton-on-Hudson, NY
Rabbi Lewis Mintz, Temple Beth Elohim, Acton, MA
Cantor Jenny Isenstark, Temple Anshe Sholom, Olympia Fields, IL
Cantor Donna Goldstein, Temple Israel, Westport, CT
Cantor Dana Anesi, Temple Beth El, Chappaqua, NY
Cantor Florence Merel, Temple Sinai, Summit, NJ
Rabbi Morley Feinstein, Temple Beth El, South Bend, IN
Cantor Donna Marcus, Temple Emanu-El, Livingston, NJ