Cantor Robbie Solomon - Live @ BHC
Eleven songs and eight original pieces recorded live at Baltimore Hebrew Congregation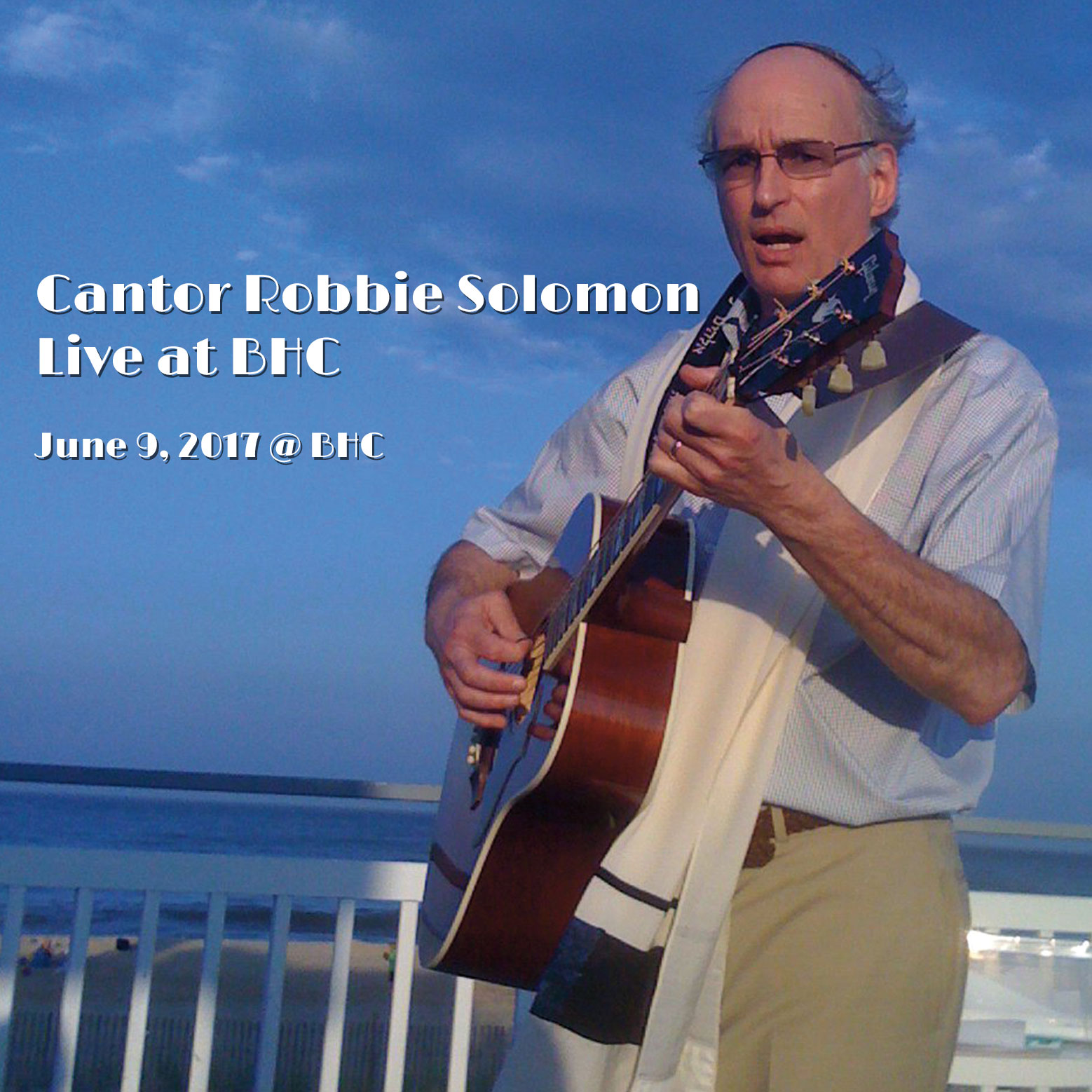 Over the last few years, I have been not only composing new pieces for the synagogue and beyond, but also honing my skills as an arranger and an orchestrator. I hope to use these new abilities further into my retirement, which began this summer (2017).
I am proud to offer here a new live recording, "Cantor Robbie Solomon Live at BHC" in which many of these skills are displayed. It was scored for cantor, choir, string quartet, woodwind trio and a rhythm section of guitar, piano, bass and drums. The CD includes eight original pieces most of which have not been recorded before.
You can purchase the CD for $15, including shipping and handling, or download it for $10 from OySongs.com.
Baby Songs - by Robbie Solomon
A collection of six Baby Songs © 2013 on the occasion of becoming a grandfather.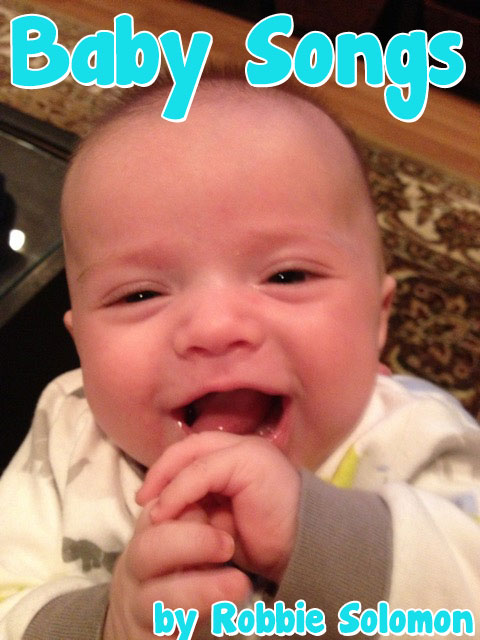 Composed by Robbie Solomon © 2013
All songs arranged by Brent Hardesty Bojingles Audio, Parkville, Md., and Robbie Solomon
Mixing by David Sparr, Little Dog Studios, Malden, Mass.
Keyboards and Midi tracks: Brent Hardesty
Percussion: Samuel Solomon
Violin: Frances Horich
Viola: Maria Kannen
Banjo, Mandolin and Guitar: Robbie Solomon
"O Little One", co/written by Kristy Ererra-Solomon
vocal by Kristy Ererra-Solomon
"Feet and Fingers"
vocal by Kristy Ererra-Solomon
"Bubbie's House"
vocals by Shira Pomerantz, Caroline Miller, Joan Firestein, and Sydney and Drew Junker
"Sippy Cup"
vocal by Kristy Ererra-Solomon
"Don't Cry"
vocals by Robbie Solomon and Kristy Ererra-Solomon
"It's A Wonderful Thing"
vocals by Kristy Ererra-Solomon and Robbie Solomon
Buy The Whole Baby Songs Album
Buy The Whole Album Baby Songs Sheet Music
Forever Blessed
by Robbie Solomon
12 songs by Robbie Solomon, two-part arrangements for the synagogue, beautifully performed by Robbie and a stellar cast of cantors—Benjie-Ellen Schiller, Jacob Mendelson, and Elias Rosemberg—and beautifully orchestrated.
Download Album for $9.99.
CD for $11.95 plus shipping.
Forever Blessed Album - OySongs
Forever Blessed Sheet Music
Forever Blessed Digital Songbook
Forever Blessed CD - $11.95
The Orphan Queen
by Robbie Solomon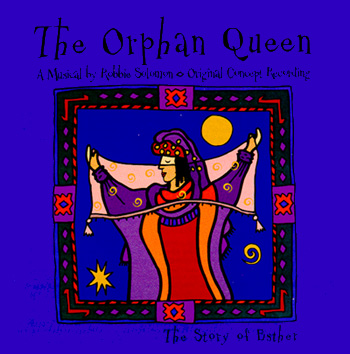 The Orphan Queen – Original Concept Recording by Robbie Solomon
Recorded in 1999 at Blue Jay Studio in Massachusetts, this 2-CD set features some of the original actors, singers and musicians from the 1997 production of Robbie's full-length musical based on the biblical story of Esther.
The play (OrphanQueen.com) has been performed on numerous occasions and in many venues since that year and has undergone some reworking and writing. However, this wonderfully upbeat and moving recording still inspires and is the basis for all subsequent productions.
Download album for $12.99.
TWO CDs for $24.95 plus shipping.
The Orphan Queen 2 CD Set
Listen to Samples and Download Orphan Queen Tracks
The Robbie Solomon Collection, Vol. 1
by Robbie Solomon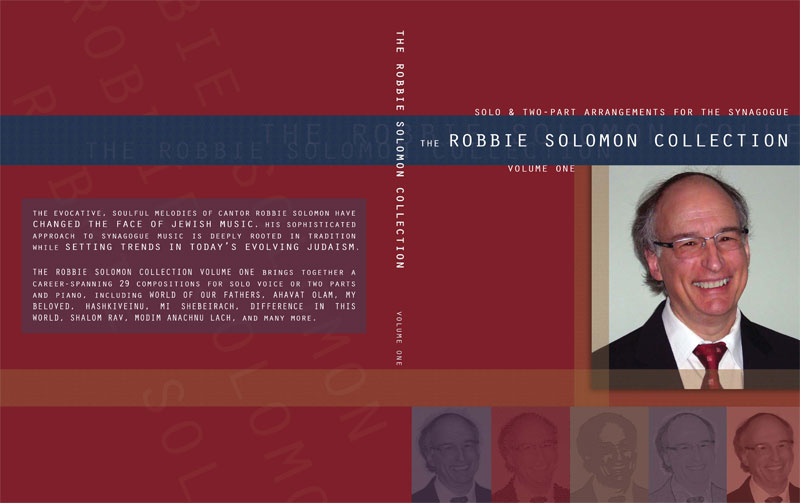 A collection of 29 solo and two-part arrangements for the synagogue, this songbook is contains full piano accompaniment as well as some optional cello and clarinet parts.
Included in the collection are some of Cantor Solomon's most beloved songs—World of Our Fathers, Hashkiveinu, Mi Shebeirach, My Beloved and many more. Accompanying the book is a CD recording of 12 of the songs, called "Forever Blessed."
Songbook & CD for $49.95 plus shipping.
The music of a Jewish service brings an extra dimension to the worship experience. A cantor's voice, a choir's harmony, a congregation's spirited singing, all lend richness to the powerful words of our tradition. In this collection of settings for solo voice and two-part singing are songs that stretch the listener's ear and songs that seem comfortably familiar. There are concert pieces as well as melodies for the congregation to join in singing.
Recognizing that not every occasion calls for a choir, the settings in this volume can be performed with a minimum of forces–one or two voices with a piano or guitar. For some of the songs added instrumental parts and vocal parts can be made available upon request from OySongs.com
Included with the printed music is a CD recording of twelve of the twenty-nine settings. It is called "Forever Blessed." Recordings of many of the other songs can be found at OySongs under my name or Safam.
Please enjoy the music!
Warmly,
Cantor Robbie Solomon
AHAVAT OLAM
, a joyous celebration of God's unending love for us, was written for
Temple Neve Shalom of Portland, OR on the occasion of their 130th anniversary.
Here it is set as a simple arrangement for two-part choir and cantor.
AMAR RABI ELAZAR, a Talmudic passage traditionally chanted in the Sabbath morning
liturgy, states that "students of torah increase the level of peace in the world".
Recognizing the competitive nature of Yeshivas, this setting imagines a duel
between the two rabbis sited in the passage: Rabbi Chanina and Rabbi Elazar. It
should be performed with humorous interplay between the two singers, in ironic
contrast to the message of the text.
BASHEIRT — "It was meant to be." This song was written for my mother Shirley
Solomon (z"l) when she was terminally ill. A child's attempt to comfort a dying parent
serves to soften his own grief.
B'TZEIT YISRAEL — "When Israel went forth from Egypt" comes from the Hallel service.
The music invokes the wonderment of the Israelites as they beheld the miracles at
the Red Sea. It is recorded on Safam's Greatest Hits vols. 3 & 4.
BUILD ME A HOLY PLACE was commissioned by the Larchmont Temple of Larchmont,
NY for the dedication of the new sanctuary. It includes three Biblical passages which
are found on the walls of the temple. This celebratory setting is intended to bring
many parts of the congregation together with children and adults singing, percussion
instruments, and clapping.
DIFFERENCE IN THIS WORLD is a two-part choral work originally written for youth
choirs. It was inspired by the words of Maya Angelou and celebrates the diversity of
our world, wondering why it has to be a source of conflict rather than a source of
joy.
EITZ CHAYIM from the Torah service is my well-known choral setting here reduced to
solo voice. It was written for the dedication of a new Torah for Temple Sinai in
Sharon, MA.
FOREVER BLESSED, the title piece from the enclosed CD, was commissioned by Cantor
Fredda Mendelson as a gift to her rabbi, Jeffrey Sirkman, for his son Gabriel's Bar
Mitzvah.
HASHKIVEINU is the evening prayer which is most like a classic lullaby. It recounts the
terrors that we imagine can occur while we sleep and pleads that God protect us
and bring us safely through the night to awake in peace.
HAVU LADONAI — Psalm 29 is a psalm sung during the Kabbalat Shabbat service and
when the Torah is carried around the sanctuary in the morning. The words describe
a God of infinite power whose voice can turn back the waves and break the cedars
of Lebanon. The music reflects that bravado.
HINEI EL YESHUATI is the prayer that opens the Havdalah service which separates the
Sabbath from the weekday. After the Sabbath rest refreshes us we look for strength
to carry us through the week: "God is my deliverer; I trust in You and I am not
afraid."
HODO AL ERETZ is another selection from the Torah service, written for the dedication
of a new sanctuary at Temple Beth-El, Northbrook, IL.
KEDOSHIM TIH'YU is from Leviticus Chapter 19, known as the Holiness Code. This simple
but sweet setting can be used to accent the d'var Torah given on this portion
every year.
KIDDUSH is a setting from the Neve Shalom service, Zimrat Shalom (see Ahavat
Olam). It is a majestic solo with congregational responses.
L'CHA ADONAI/ROM'MU for the Torah procession (hakafah) written for the dedication
of the new sanctuary at Temple Beth-El, Northbrook, IL is a flowing adaptation of
the text: "Yours is the power, the glory, the victory and the majesty; for all that is in
heaven and earth is Yours." The second part is a joyous dance.
MAH TOVU is from Zimrat Shalom (see Ahavat Olam). The opening prayer of many
services, it is both participatory and musically evocative of the beautiful blessing:
"How lovely are your tents, O Jacob, your dwelling places O Israel!"
MI SHEBEIRACH is a solo version of the prayer for healing heard on Safam's In Spite
of It All.
MODIM ANACHNU LACH for two voices is a prayer of thanksgiving for all we have
received–the big gifts and the little miracles we encounter every day, morning,
noon, and night, "O God, we can always count on You."
MY BELOVED is a wedding song which references the verse from the Song of Songs,
"I am my beloved's and my beloved's mine."
REMINISCENCE is the recollection of a Holocaust survivor about his former life in
Europe. In it I imagined the thoughts of my beloved teacher, Cantor Gregor Shelkan
(z"l) who survived four years in Auschwitz before coming to Massachusetts to serve
Congregation Mishkan Tefilah of Chestnut Hill. It is the last piece in the three-part
musical drama Photo Album from Safam's Greatest Hits vols. 3 & 4.
SHALOM RAV is a jazz duet with a sultry Latin beat–a very different setting for this
prayer of peace.
SONG OF SONGS, an early composition written to the words of the biblical love poem,
is a solo piece written to a Bossa Nova beat. It can be sung at a wedding or for
the holiday of Passover when the Song of Songs is traditionally read.
TZEDEK TIRDOF, the famous injunction from the Torah portion Shoftim–"Justice, justice
shall you pursue!" is a duet commissioned by Cantor Donn Rosensweig of
Andover, MA for the Bar Mitzvah of his son Daniel. Father and son sang it at the
service. It is a dialogue on the nature of justice.
V'AHAVTA is a setting of the first paragraph of the Sh'ma, Deuteronomy Chapter 6,
verse 5, and following. It contains a bit of vocal gymnastics for a cantor, who must
maintain his or her intonation until the piano or piano/strings enter.
VAY'CHULU, another selection from Zimrat Shalom (see Ahavat Olam) is a cantorial
solo that has some surprising harmonic twists. It is a setting of Genesis Chapter 2
verses 1-3, which is part of the Friday night liturgy.
V'SHAMRU is a two-part choral setting of the prayer that describes the Jewish obligation
to keep the Sabbath. Its minor mode is evocative of the restful Friday
evening mood.
WEDDING BLESSING NO. 7 is a setting of the last and most joyous of the Sheva
Brachot chanted at a wedding. Its lilting melody for "the voice of the bridegroom
and voice of the bride" lifts the spirit and provides a wonderful finish to that part
of the ceremony.
WINGS OF LOVE was written for the baby naming of my son, Samuel Zachary, who is
now grown and on the way to starting his own family.
WORLD OF OUR FATHERS from Safam's third recording Sons of Safam, is a composition
written after collecting the stories of many of my friends' grandparents in their emigration
to America at the beginning of the last century. It is a story of the immigrant's
experience that has been repeated with each new arrival to this land of
opportunity.
The Robbie Solomon Collection Songbook & CD
Chorale Music
by Robbie Solomon
Robbie Solomon - Choral Music
The Choral Collection: Since the publication of Leaving Mother Russia over 30 years ago, Transcontinental Music Publications has been adding choral works by Cantor Solomon on a regular basis. They are printed as part of several collections of synagogue works as well as in octavo form. Sheet music of many of these works in digital and printed format can also be found through OySongs.com