Welcome
Welcome to RobbieSolomon.com, a site devoted to Cantor Robbie Solomon -- clergy, performer, composer, lecturer, writer, and publisher. While working as a cantor for over thirty years in Greater Boston, Massachusetts, Robbie has gained wide recognition as a creator of musical works that express the richness of the Jewish experience.
Here you can access many of these works, and find links to more. Please enjoy, and check in often for more music by Robbie Solomon.
Orphan Queen Success!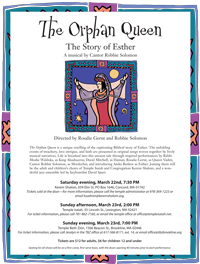 The recent showings of The Orphan Queen were a rousing success!
My thanks to all the cast and crew for your brilliant performances and for making The Orphan Queen a musical that was enjoyed so thoroughly by so many people.