Cantor Robbie Solomon Live @ BHC
Over the last few years, I have been not only composing new pieces for the synagogue and beyond, but also honing my skills as an arranger and an orchestrator. I hope to use these new abilities further into my retirement, which began this summer (2017).
I am proud to offer here a new live recording, "Cantor Robbie Solomon Live at BHC" in which many of these skills are displayed. It was scored for cantor, choir, string quartet, woodwind trio and a rhythm section of guitar, piano, bass and drums. The CD includes eight original pieces most of which have not been recorded before.
You can purchase the CD here for $15, including shipping and handling, or download it for $10 from OySongs.com.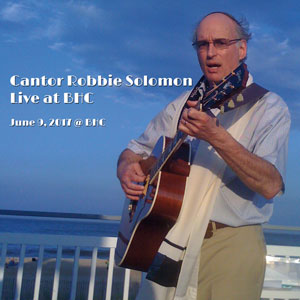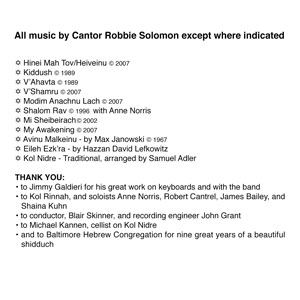 Cantor Solomon is gearing up for Shavuot, May 25 at Congregation Beth Shalom of the Blue Hills, Milton, Massachusetts. He will once again this year be officiating there for the High Holy Days along with Rabbi Benjamin and the congregational choir which he has...
read more